IDX Update Brings Revolutionary Boarding Manager for Boarding Announcements without Microphones
June 08, 2016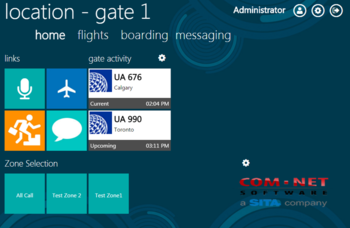 Initiate Announcements or Update MUFIDS from a Workstation or AMX® Touch Panel
LAS VEGAS—HARMAN is furthering its commitment to providing innovative, integrated paging, messaging and background music solutions for the transportation market with a major update to the IDX AirportVoice, AirportVision, TransitVoice and TransitVision software. The new 5.0 version of the core IDX software for airports and mass transit includes the revolutionary IDX Boarding Manager, a new software tool that functions as a virtual microphone station. IDX Boarding Manager allows gate agents to initiate prerecorded gate boarding or arrival announcements directly from a browser window. Because IDX Boarding Manager is part of IDX's comprehensive information system, gate agents can also make updates to MUFIDS information displays and initiate other changes directly from a browser. The virtual microphone station can be accessed from the gate workstation, but is also designed to be accessible from the browser on an AMX Modero X® G5 Series touch panel.
"As airport and mass transit IT departments consolidate their customer information systems, their push to integrate the PA, MUFIDS systems and other information systems continues," explains John Goodrich, Transportation Solutions Manager for HARMAN Professional Solutions. "This new update to the IDX software meets these new IT integration requirements. IDX Boarding Manager provides gate agents the ability to make gate boarding announcements, update MUFIDS displays and provide courtesy announcements all without the use of a physical public address mic station."
A key benefit of the IDX Boarding Manager is its simplicity. "With the ability to operate on the gate workstation or one of AMX's wide variety of Modero X touch panels, the deployment of IDX Boarding Manager greatly streamlines the integration of a typical airport Public Address system while providing enhanced features that most air carriers rely on to board their aircraft," says Goodrich. As well, because the system eliminates the need for a full-function mic station, IDX Boarding Manager provides a significant cost savings.
Simplicity and cost savings are also achieved by leveraging the existing IT network. Other IDX devices, such as BSS® DAC-EN Digital Audio Controllers, can be located anywhere on the network and still communicate with IDX Boarding Manager without the need to run create a dedicated audio network infrastructure. This also allows IDX Boarding Manager to communicate with the MUFIDS system, providing additional capability from a single, intuitive interface.
IDX AirportVoice v.5.0, AirportVision v.5.0, TransitVoice v.5.0 and TransitVision v.5.0 are available now.
Additional Details
HARMAN is demonstrating this new software update, including IDX Boarding Manager in Booth #N805 at InfoComm 2016. For further details, we invite you to visit these online resources:
Related Products